Genuine Customer Appreciation
Customer appreciation is one of those terms that is bandied about so much that it has lost its meaning. Car dealers, furniture stores, banks all hold "customer appreciation days." (Google the term and see what all pops up.) I'm just waiting for the Internal Revenue Service (or the US Congress) to hold a customer appreciation day!
So many "thank you" statements have become mechanical. Even vending machine flash "Have a nice day" on its screen after you make a purchase. We've become numb to these statements of "appreciation."
As a consultant in customer service and customer feedback management, I'm pretty cynical about these attempts at such marketing hype, so imagine my pleasant surprise when I actually felt appreciated as a customer, not from some major retailer with a fancy promotion or some high tech firm who had hired marketing wizards, but from my local restaurant.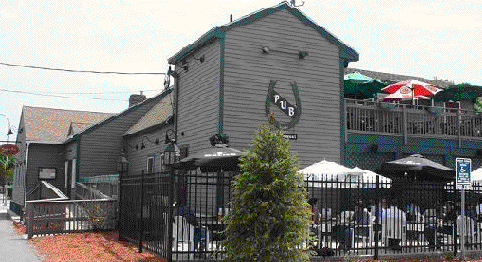 My wife and I have been regulars at the Horseshoe Pub & Restaurant in Hudson, Mass. for many years. 80 beers on tap will quench my palate, and in addition to pub grub they have several daily dinner specials that are quite fine. Most important is the atmosphere. It's a friendly place with a very mixed crowd. The bar will have people in their 20s sitting next to people in their 70s. (As people in our 50s we like walking into a place and not raising the average age of the patronage.)
People from the local high tech firms mix with firefighters from the nearby Massachusetts fire fighting training center. In this regard it has the feel of a British neighborhood pub. Horseshoe's motto is "Enter as strangers. Leave as friends." We can honestly say that has happened. We've shared tables at the bar area with total strangers — and found new friends.
One Friday night when we were there, the owner, Nick Pizzimento, stopped by our table to tell us about his vacation plans and to discuss Red Sox spring training. (His father, Al, who opened the bar, is a New Yorker and a Yankees fan, but Al had the good grace to let his son see the light and be part of Red Sox Nation. I actually think Al takes some hidden pleasure in making money off of Red Sox fans.) Nick handed us a card for a customer appreciation night that coming Sunday, February 15.
We had dinner plans for a belated Valentines Day dinner, but we stopped by on our way home. We should have cancelled our dinner. While the pub normally closes at 8 on Sundays, this night they had a private party for their favorite customers starting at 7. We were given 2 drink coupons and treated to a buffet dinner, including a carving station with prime rib. It proved to be a wonderful evening because all the patrons had one thing in common: We appreciated being appreciated.
Did the Pizzimentos need to do this? Clearly, the pub lost money that night, forgoing paying customers and the expense of the private party. (True, they did make some money on the drinks they sold after the tickets were gone.) But these folks look at the long run. They know how to create loyal customers by doing what they enjoy — serving customers, who are destined to become friends. What's their secret sauce? They're genuine. Your challenge: Get your employees to be genuine in their appreciation of your customers. Of course, that starts at the top with you.
https://greatbrook.com/wp-content/uploads/2015/07/great-brook-survey-workshops-logo.png
0
0
Fred Van Bennekom
https://greatbrook.com/wp-content/uploads/2015/07/great-brook-survey-workshops-logo.png
Fred Van Bennekom
2008-04-18 07:42:20
2016-02-03 16:16:36
Genuine Customer Appreciation